Astro A40 TR Headset Black
Order within
for next day delivery
---
Compatible with PS4, Xbox One, PC, Mac and Nintendo Switch
The ASTRO A40 TR is the premier gaming headset for professional gamers, including esports athletes, content creators, steamers, and game developers. It was developed with esports athletes to meet their rigorous standards for audio fidelity, comfort, and durability. Able to adapt to any environment, the A40 TR arrives as an open-back headset featuring a swappable precision mic and customizable speaker tags. For loud environments such as pro tournaments, one can transform the A40 TR to a closed-back noise-isolating headset by adding a Mod Kit (sold separately) which features sealed speaker tags, synthetic leather ear cushions, and a voice-isolating microphone. For VR gamers, the A40 TR will fit perfectly over the HTC Vive, Oculus, or PS VR and deliver an immersive audio experience. For Xbox One and PS4 users, the A40 TR headset can plug into the 3.5mm jack directly on the controller for stereo sound and voice chat. All TR products are the Official Equipment of Call of Duty, the leading console esports title globally.
*Please note: A40 TR Mod Kits are only compatible with A40 TR Headsets and not any other headsets.
Included:
A40 TR Headset
A40 TR Microphone
ASTRO Speaker Tags
Cables:
1.0m A40 TR Mobile Cable
1.5 m PC Splitter
Features
CUSTOMIZABLE SPEAKER TAGS

Our magnetic speaker tag system lets you personalize your pair. Buy special editions or design your own using the Speaker Tag Customizer.
SUPERIOR FIT & FINISH

Featuring premium materials and construction, ASTROs are highly adjustable and surprisingly lightweight. Clamp them on your dome for days or turn them flat around your neck.
PRO QUALITY AUDIO

Tuned for Gaming, ASTRO Audio was developed with pro gamers and game designers to deliver clarity and detail at every frequency and volume level. 
SWAPPABLE PRECISION MICROPHONE

Highly sensitive unidirectional mic that focuses on your voice and minimizes background noise. It can be positioned on either side of the A40 TR headset.
MOD KIT READY

Compatible with Mod Kits, ASTRO's Noise-Cancelling Conversion kit made for loud environments. Features synthetic leather noise cancelling ear cushions, voice isolating mic, padded headband and closed back speaker tags (sold separately).
[additional-info]
Features
Mod Kit Ready
Swappable Precision Microphone
Pro Quality Audio
Superior Fit and Finish
Customizable Speaker Tags
Best headset I had the older Astro a40s so wanted another pair, they're really comfy and sound much better too the surround sound is so clear.
Present for my son.
My Son says it is great, he is happy,I can't hear his loud gaming back ground music, I'm happy. Job done
Delivery & Dispatch
Orders placed before 3 pm Monday - Friday will be dispatched the same day excluding Bank Holidays. The next working day shipping service applies to orders placed between Monday - Thursday orders placed anytime after 3 pm on Thursday will be dispatched on Friday and any next working day orders will be delivered on the following Monday (Saturday is not classed as a working day).
Delivery options
UK Mainland
We keep it simple here at Lime offering the best service possible -
Free delivery on all orders (2-3 working days).
Express - £4.99 1-2 days delivery.
Premium- £6.99 Next day with 1hr timeslot.
International
Delivery to Europe with tracking £14.99
Order Dispatch Details
A delay in your item being dispatched could be for a number of reasons including:
A decline of payment
Order has missed the dispatch time of 3pm (Monday-Friday)
A delay with the carrier (for example severe weather conditions)
In the unfortunate event that your item has not arrived by the expected delivery date we advise that you first contact your local postal or courier depot to ensure the goods are not awaiting collection, please also ensure that no calling cards or notes have been left stating that a delivery had been attempted. Instructions on what to do next will be provided on the calling cards if this is the case. In the event that no card has been left please, contact your local depot for further information. Limexb shall have no liability to you for any failure to deliver goods you have ordered or any delay in doing so or for any damage or defect to goods delivered that is caused by any event or circumstance beyond its reasonable control.
Please note: Your first 3 orders with us must be shipped to the matching billing address for security and fraud prevention reasons. After your first 3 orders have been placed you may then add additional shipping addresses. If you checkout using PayPal, we will always ship to the address verified by PayPal. If your address is not verified we may ask for further information and thus delaying your order being dispatched.
Return/Unwanted Items
When shopping with Lime Pro Gaming we want to make this the best experience possible. If for any reason you wish to return something though, we are happy to help. If you change your mind about your purchase you have 14 days from the date of receipt to do so and return it to us unopened at your own expense for a full refund after this time we do not accept returns (please note the original shipping costs are non-refundable as these have been passed onto the carrier). Please return items via a signed for or tracked delivery service. If goods are not sent back to us via a signed for or tracked service and/or in case the goods are lost or not received, Lime Pro Gaming cannot be held responsible for any loss sustained. We kindly ask that you ensure the item is safely packaged to avoid any damage during transit.
To make sure your return can be processed efficiently we will require our returns form to be included with all returned items; this will be provided once we have been contacted regarding your return.
Once received we aim to process a return within 5 working days
The item must be returned complete, including all the original contents and manufacturers packaging.
Refunds will be processed via the original payment method
We will NOT accept returns if;
The item has been opened or seal broken
The item has been visibly used or worn.
The item is marked or dirty in any way.
The packaging has been lost, thrown away or damaged.
The item has been damaged in return transit due to insufficient packaging.
The item is over the 14 day returns period
Faulty Goods Return
In the unfortunate event that you have received an item you believe to be faulty please check the following steps before returning your goods. If a manual is present please read these thoroughly to ensure correct operation/set up of the product.
If your item has stopped functioning correctly we offer a 12 month warranty on goods, valid from the date of purchase. In the first instance though we would advise consulting the products manual as this would provide useful troubleshooting tips. If further assistance is required though, we would recommend contacting the manufacture directly as this may be the quickest method. If the problem persists we ask that you open a support ticket and a member of our technical team will be able to assist further and provide all the necessary returns information.
To return faulty products please email us by opening a support ticket before posting the goods. When returning please ensure we have issued a returns form to you and that this is completed fully as indicated prior to returning your item. Please make sure the item is wrapped securely to avoid damage. Please note we can only accept a faulty return if your item is returned complete including all the original manufacturers packaging, so please do not throw this away upon purchase or we will not be able to accept the item back. Please return items via a signed for or tracked delivery service. If goods are not sent back to us via a signed for or tracked service and/or in case the goods are lost or not received, Lime Pro Gaming cannot be held responsible for any loss sustained.
*IMPORTANT: International Returns. - *Please note for International customers with faulty hardware you will need to contact the manufacturer directly for assistance with replacing the faulty goods, or return the item to us at your own expense for replacing.
We do test every single return, and if a returned product is found not to be faulty by our Lime test team we will return the product to you with a postage charge not exceeding £2.90 for Software and £8.00 for Hardware. To prevent this please explore every possible avenue to try and get your product operating as it should be before returning and contact the manufacturer if necessary for assistance.
Return Address:
Lime Pro Gaming
Returns Department
PO Box 838
Rainham
Kent
ME8 1DX
This returns policy does not affect your legal rights.
Cancellation of Orders
You are able to cancel your order prior to shipping with no cost penalty being incurred and full credit of your account if monies have already been taken. You can cancel an order by following the links on the Lime Pro Gaming website, or by opening a support case, or using the contact us page. Please note if the goods have already been shipped the item will need to be returned before a refund can be processed.
You can pay for you order using your credit/debit card or PayPal. All orders are charged in Great British Pounds (GBP). Prices displayed in other currencies are approximate - you will be charged in GBP.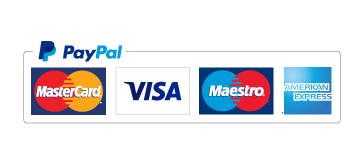 Buy now, pay later with PayPal Credit PayPal
Credit is like a credit card, without the plastic. It's a credit limit that's attached to your PayPal account which you can use for your online purchases.