Order within
for next day delivery
---
Adventure awaits with the new The Legend of Zelda ™: Breath of the Wild A10 Headset! This durable A10 Headset features golden runes, Lens of Truth, Hyrule Crest, and the iconic Zelda "Z" and Master Sword emblem embossed upon a textured black background.
Precisely tuned for gaming with ASTRO Audio, this headset delivers the depth of Hyrule to your living room in unsurpassed audio fidelity with any 3.5mm audio port. Premium, flexible, and lightweight materials eliminate headset fatigue, while the flip-to-mute microphone and Switch-compatible chat cable keeps you in command of your communication. Defeat Calamity Ganon, help Princess Zelda, and meet your destiny in legendary style!
-----
Astro Gaming is synonymous with premium, top-of-the-range XB1 headsets for pro gamers and eSports competitors, but the Astro A10 headset for the XB1 puts Astro's legendary quality and attention to detail within easy reach of Xbox gamers on a budget. Cross-platform compatible with the Playstation 4 and PC and designed for games, movies, virtual reality and streaming, the A10 is as versatile as it is affordable.
'Tuned for Gaming' with Astro Audio
Astro have set the gold standard for gaming audio, and with the A10 headset for Playstation 4 they've continued to deliver the incredible fidelity that passionate gamers have come to expect. "Tuned for Gaming" with the revolutionary Astro Audio, the A10 ensures you hear everything with incredible clarity, from the smallest footsteps to the largest explosions.
Designed for Gaming, Streaming and VR
You don't just play with the Astro A10; you experience it. Whether you're playing a frenetic first-person shooter, streaming a blockbuster movie or exploring new worlds with PlayStation VR, the A10's high-fidelity audio drivers deliver the kind of incredible audio and sensational fidelity you'll find in headsets costing four times the price. Quite how Astro Gaming have managed to pack so much advanced technology into the A10 and keep the price so low is a mystery to us. All we know is that the Astro A10 turns your PS4, PC or Xbox One into an electronic soundboard and fills your ears with the kind of quality sound you'll never get bored of hearing.
Quality Audio, Just How You Like It
The blue version of the Astro A10 only works with PS4 consoles, right? Wrong. One of the great strengths of the Astro A10 is it's aesthetic versatility. The Blue A10 works just as well on the XB1 and PC as it does on the PS4, while the Astro A10 for the XB1 and A10 for the PC work equally well across all platforms. So you don't have to throw that Incredible Hulk PS4 skin away just yet.
Premium Fit and Finish at a Budget Price
There's a difference between inexpensive and cheap, and the Astro A10 gaming headset for the PS4 is definitely the former. It may be a budget gaming headset, but the build quality is anything but. The lightweight design and luxurious memory foam padding are a God-send for long gaming sessions, and the extra wide headband allows plenty of space for a virtual reality headset. Intelligently designed and pretty darn stylish to boot, the A10 has the look and feel of a premium Xbox One headset any pro gamer would be proud to have on their head.
Flip-Up Mute Function
Whether you're competing in eSports tournaments or just playing with your friends online, the A10's quality omni-directional microphone enhances the experience and brings new clarity to your conversations. Fully adjustable through 135 degrees, the microphone can be positioned wherever you want. And a quick flick of the microphone will take you off-grid in the blink of an eye.
Rock-Solid Durability and Reliability
Featuring a durable aluminium headband with a damage resistant rubberised cover and highly durable earpads, the A10 is perfectly equipped to cope with even the most intense battles. Super-tough and highly durable, the A10 is robust enough to handle whatever you can throw at it. Whatever you play and however you play it, the Astro A10 gaming headset is tough enough to withstand wins, losses and everything in-between.
Detachable 3.5mm Volume Control Cable
The Astro A10 ships with a 2m long, detachable 3.5mm inline volume control cable, giving you complete control over your audio. Conveniently situated near the headphones, the volume control dial makes it easy to reduce or increase the audio level. Music to your ears.
[additional-info]
Detachable 3.5mm Volume Control Cable
Flip-Up Mute Function
Quality Audio Designed for Gaming, Streaming and VR
Tuned for Gaming
Delivery & Dispatch
Orders placed before 3 pm Monday - Friday will be dispatched the same day excluding Bank Holidays. The next working day shipping service applies to orders placed between Monday - Thursday orders placed anytime after 3 pm on Thursday will be dispatched on Friday and any next working day orders will be delivered on the following Monday (Saturday is not classed as a working day).
Delivery options
UK Mainland
We keep it simple here at Lime offering the best service possible - 
Free delivery on all orders (2-3 working days).
Express - £4.99 1-2 days delivery.
Premium- £6.99 Next day with 1hr timeslot.
International
Delivery to Europe  with tracking £14.99
Order Dispatch Details
A delay in your item being dispatched could be for a number of reasons including:
A decline of payment
Order has missed the dispatch time of 3pm (Monday-Friday)
A delay with the carrier (for example severe weather conditions)
In the unfortunate event that your item has not arrived by the expected delivery date we advise that you first contact your local postal or courier depot to ensure the goods are not awaiting collection, please also ensure that no calling cards or notes have been left stating that a delivery had been attempted. Instructions on what to do next will be provided on the calling cards if this is the case. In the event that no card has been left please, contact your local depot for further information. Limexb shall have no liability to you for any failure to deliver goods you have ordered or any delay in doing so or for any damage or defect to goods delivered that is caused by any event or circumstance beyond its reasonable control. 
Please note: Your first 3 orders with us must be shipped to the matching billing address for security and fraud prevention reasons. After your first 3 orders have been placed you may then add additional shipping addresses. If you checkout using PayPal, we will always ship to the address verified by PayPal. If your address is not verified we may ask for further information and thus delaying your order being dispatched.
Return/Unwanted Items
When shopping with Lime Pro Gaming we want to make this the best experience possible. If for any reason you wish to return something though, we are happy to help. If you change your mind about your purchase you have 14 days from the date of receipt to do so and return it to us unopened at your own expense for a full refund after this time we do not accept returns (please note the original shipping costs are non-refundable as these have been passed onto the carrier). Please return items via a signed for or tracked delivery service. If goods are not sent back to us via a signed for or tracked service and/or in case the goods are lost or not received, Lime Pro Gaming cannot be held responsible for any loss sustained. We kindly ask that you ensure the item is safely packaged to avoid any damage during transit.
To make sure your return can be processed efficiently we will require our returns form to be included with all returned items; this will be provided once we have been contacted regarding your return.
Once received we aim to process a return within 5 working days
The item must be returned complete, including all the original contents and manufacturers packaging.
Refunds will be processed via the original payment method
We will NOT accept returns if;
The item has been opened or seal broken
The item has been visibly used or worn.
The item is marked or dirty in any way.
The packaging has been lost, thrown away or damaged.
The item has been damaged in return transit due to insufficient packaging.
The item is over the 14 day returns period
Faulty Goods Return
In the unfortunate event that you have received an item you believe to be faulty please check the following steps before returning your goods. If a manual is present please read these thoroughly to ensure correct operation/set up of the product.
If your item has stopped functioning correctly we offer a 12 month warranty on goods, valid from the date of purchase. In the first instance though we would advise consulting the products manual as this would provide useful troubleshooting tips. If further assistance is required though, we would recommend contacting the manufacture directly as this may be the quickest method. If the problem persists we ask that you open a support ticket and a member of our technical team will be able to assist further and provide all the necessary returns information.
To return faulty products please email us by opening a support ticket before posting the goods. When returning please ensure we have issued a returns form to you and that this is completed fully as indicated prior to returning your item. Please make sure the item is wrapped securely to avoid damage. Please note we can only accept a faulty return if your item is returned complete including all the original manufacturers packaging, so please do not throw this away upon purchase or we will not be able to accept the item back. Please return items via a signed for or tracked delivery service. If goods are not sent back to us via a signed for or tracked service and/or in case the goods are lost or not received, Lime Pro Gaming cannot be held responsible for any loss sustained.
*IMPORTANT: International Returns. - *Please note for International customers with faulty hardware you will need to contact the manufacturer directly for assistance with replacing the faulty goods, or return the item to us at your own expense for replacing.
We do test every single return, and if a returned product is found not to be faulty by our Lime test team we will return the product to you with a postage charge not exceeding £2.90 for Software and £8.00 for Hardware. To prevent this please explore every possible avenue to try and get your product operating as it should be before returning and contact the manufacturer if necessary for assistance.
Return Address:
Lime Pro Gaming 
Returns Department
PO Box 838
Rainham
Kent
ME8 1DX
This returns policy does not affect your legal rights.
Cancellation of Orders
You are able to cancel your order prior to shipping with no cost penalty being incurred and full credit of your account if monies have already been taken. You can cancel an order by following the links on the Lime Pro Gaming website, or by opening a support case, or using the contact us page. Please note if the goods have already been shipped the item will need to be returned before a refund can be processed.
You can pay for you order using your credit/debit card or PayPal. All orders are charged in Great British Pounds (GBP). Prices displayed in other currencies are approximate - you will be charged in GBP.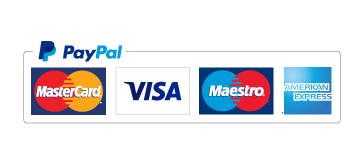 Buy now, pay later with PayPal Credit PayPal
Credit is like a credit card, without the plastic. It's a credit limit that's attached to your PayPal account which you can use for your online purchases.